Total Knee Joint Replacement
Knee replacement is a surgical procedure — performed in the U.S. since the 1960s — in which a diseased or damaged joint is replaced with an artificial joint called a prosthesis.Made of metal alloys and high-grade plastics (to better match the function of bone and cartilage, respectively), the prosthesis is designed to move just like a healthy human joint. Over the years, knee replacement techniques and instrumentation have undergone countless improvements. Today, knee replacement is one of the safest and most successful types of major surgery; in about 90% of cases it is complication-free and results in significant pain relief and restoration of mobility.1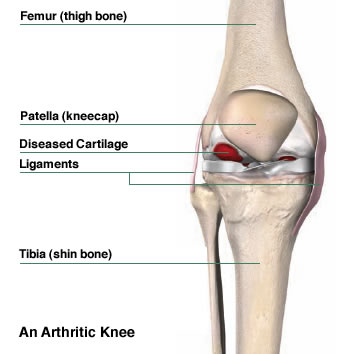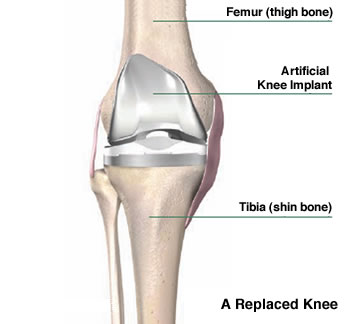 Don't Let Knee Pain Slow You Down
Don't let severe knee pain limit your activities. If you haven't experienced adequate relief with medication and other conservative treatments, joint replacement may provide the pain relief you long for and enable you to return to your favorite activities. Remember, even if your doctor recommends knee replacement for you, it is still up to you to make the final decision. The ultimate goal is for you to be as comfortable as possible with your choice — and that always means making the best decision based on your own individual needs.
Arthritis: The Leading Cause of Knee Pain
One of the most common causes of knee pain and loss of mobility is the wearing away of the joint's cartilage lining. When this happens, the bones rub against each other, causing significant pain and swelling — a condition known as osteoarthritis. Trauma or direct injury to the knee can also cause osteoarthritis. Without cartilage there is no shock absorption between the bones in the joint. This allows stress to build up in the bones and contributes to pain.

In addition to the above, the failure or breakdown of previous replacement components may also result in the need for expert orthopaedic attention.

Symptoms and Evaluation
Each patient is unique, but generally candidates for knee replacement surgery have:
Pain severe enough to restrict not only work and recreation, but also the routine activities of daily living
Pain that is not relieved by more conservative methods of treatment, such as reduced activity, medication or physical therapy
Significant joint stiffness and loss of mobility
X-rays that show advanced arthritis or other degenerative problems

In many instances, these symptoms will be progressive in nature, increasing in severity as damage persists over time.
When determining the type and extent of injury present, Dr. Ingram will complete an in-depth examination process. Efforts will include the recording of a medical and symptom history, as well as the completion of basic strength and flexibility tests. In some cases, an MRI or x-ray may be employed in order to detect the additional presence of cartilage fragments or bone spurs.
Life After Knee Replacement
The vast majority of individuals who have joint replacement surgery experience a dramatic reduction in joint pain and a significant improvement in their ability to participate in the activities of daily living. However, joint replacement surgery will not allow you to do more than you could before joint problems developed. Your doctor will recommend the most appropriate level of activity following joint replacement surgery.
Total Knee Replacement in El Paso TX
Dr. Ingram is an expert in total knee joint replacement, emphasizing use of the most minimally invasive approaches possible. To schedule an appointment, contact his El Paso TX office at (915) 533-7465.
Find out more about Knee Replacement:
__________________________________________
References:
AAOS website, http://orthoinfo.aaos. org/topic.cfm?topic=A00385, accessed April 2011.

Hanssen, A.D., et al., 'Evaluation and Treatment of Infection at the Site of a Total Hip or Knee Arthroplasty," JBJS, Vol.80-A, No. 6, June 1998, pp. 910-922.